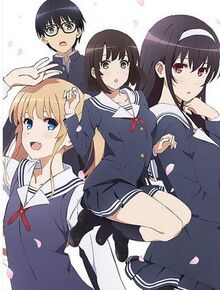 The official website for the PlayStation Vita adventure game based on the Saekano: How to Raise a Boring Girlfriend (Saenai Heroine no Sodatekata) anime announced on Monday that the game is slated for April 30. A limited edition with an original soundtrack CD and a B2-size cloth poster will retail for 8,800 yen (about US$74), a regular edition for 6,800 yen (US$57), and adownload edition for 6,000 yen (US$51). The first copies of all editions will include a download code for an original custom PS Vita theme.
The game, Saenai Heroine no Sodatekata: -blessing flowers-, will utilize Live 2D software, which moves the characters with CGI, but retains their two-dimensional look.
Players take on the role of the protagonist Tomoya Aki (Yoshitsugu Matsuoka) to "raise" a heroine of their choosing for a dojin game. At certain points in the game, the heroines will clash over issues and the player will have to decide which opinion to support. The game's main cast will be the same as the anime's.
Character Designs
Edit
Ad blocker interference detected!
Wikia is a free-to-use site that makes money from advertising. We have a modified experience for viewers using ad blockers

Wikia is not accessible if you've made further modifications. Remove the custom ad blocker rule(s) and the page will load as expected.