Unnamed Male 1
is a male character who is not named in the main Saenai Heroine no Sodatekata manga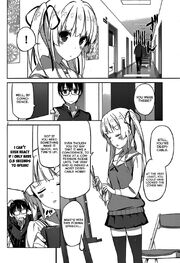 series.  He's a guy who asks
Eriri Spencer Sawamura
out on a date but gets sorrowfully rejected by her, as she claims that him and her are so far apart from each other that it just wouldn't work out; however, she did feel flattered that he asked in the first place.  
Appearance
Edit
Personality
Edit
Ad blocker interference detected!
Wikia is a free-to-use site that makes money from advertising. We have a modified experience for viewers using ad blockers

Wikia is not accessible if you've made further modifications. Remove the custom ad blocker rule(s) and the page will load as expected.